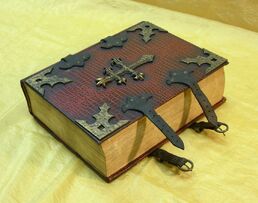 Main Page pending revision.
Welcome to The Tome of Legends Wiki
Welcome to The Tome of Legends! This Wiki is about the stories of The Realms of Ragna universe! So, Warriors, Wizards, Elves, Dwarves and mystical creatures of all types, take your time to look around, and again, I am glad to say Welcome to The Tome of Legends!
NOTE: SOME OF THE CONTENT OF THIS SITE IS TAKEN FROM OTHER SOURCES, ALL CREDIT GOES TO THEIR RIGHTFUL OWNERS.
Introduction
The Tome of Legends is a Tome containing the many stories and tales of many heroes throughout history. The Tome currently resides with The Dungeon Master in his library with stories constantly being written into the book's pages as well as new heroes being born. In it, there is no ending and there will never be one, for it is a vast collection of tales that wish to continue.
Don't know where to start? [Start here]
Note: The campaign setting is going through a major overhaul. Most (if not all) unoriginal D&D source materials are being removed and replaced with entirely original works.
Latest activity
WARNING
THIS WIKI IS SET UNDER THE CC-BY-NC-SA LICENSE. ALL ORIGINAL CONTENT ON THE TOME OF LEGENDS MAY BE EDITED, PUBLISHED OR DELETED ONLY BY SPECIAL PERMISSION FROM THE ADMINISTRATOR RANATOSK. IF YOU ARE CAUGHT PLAGIARIZING, FORGING OR VANDALISING ALL AND ANY ARTICLES ON THE TOME OF LEGENDS, YOU WILL IMMEDIATELY BE REPORTED TO THE ADMINISTRATOR RANATOSK WHERE YOU WILL EITHER BE LEFT WITH A WARNING OR WILL BE BLOCKED AND/OR DELETED.
See the following for more info: CC-BY-NC-SA